Music Inspired by Abraham
A New Adventure
Count Your Blessings
Realize Your Fantasy
Trusting and Letting Go
Do It All In Joy
Do It For Love
Find Something to Appreciate
I Look For What I Want to See
Reach For A Thought That Feels Better
Freedom & Joy
Lullabies of Well-being
I'll See It When I Believe It
I Want to Live My Life to the Fullest
Making Today Count
Dis Oui a la Vie (Say Yes to Life)
When I'm Ready to Hear
Let the River Flow
All Is Well
Joy to the Universe
A New Beginning
Abraham-Hicks Rampages of Well-being
Joy! Joy! Joy!
I can begin again
One step at a time
I can reach for relief
Lift up off of it!
I want more
Allow, allow, allow
Look for the positive aspects
Make the best of everything
Always another boat
Let it in, let it in!
Virtual Reality
If you want it (it can happen)
Feel good now!
I can choose my own vibration
I am magical
Make peace with where you are!
Feeling Good
I love my life
Well being abounds
The better I feel
Always make the best of it
Joy! Joy! Joy! (reprise)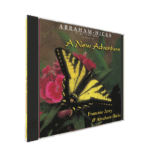 These songs, from the artist Francine Jarry, were inspired by a message of joy and well-being originating with a group of teachers who have been given the name Abraham. Jerry and Esther Hicks introduced the Abraham message in 1986, and since then, tens of thousands of people have shared the "Abraham tapes" with each other. This is the first music inspired by Abraham to be offered on the web.
On the first track, you'll hear vocals and music by Francine Jarry. The track titled "Abraham Well-being Rampage" is music combined with Abraham's own words (as spoken by Esther Hicks). The message is very moving when combined with music!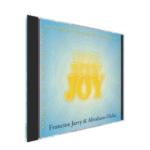 A follow-up to our first music CD "A New Adventure," our second CD "JOY. JOY. JOY!" is a milestone of musical wisdom bringing you the latest teachings of Abraham masterfully combined with the music of Francine Jarry. This CD of 23 uplifting songs will put you in touch with easy-to-remember concepts and processes inspired from dialogs with Abraham, a group of evolved teachers who deliver an inspirational message of joy and well-being.